WKI Magazine Entertainment Article #1-
Harry Mok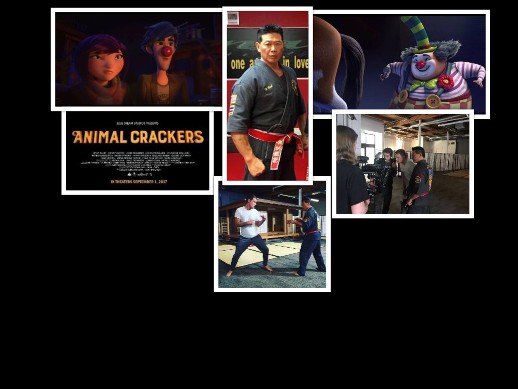 WKI Magazine Article with
Harry Mok
Martial Artists / Actor / Producer
This article is about the very talented film producer, actor, writer and martial arts champion, Harry Mok. Mok has worked with some of the greatest martial artists and stuntmen in Hollywood, including greats like Bolo Yeung, Cynthia Rothrock, Billy Blanks, Matthias Hues, and Gerald Okamura. Actors he has worked with include James Hong, Sylvester Stallone, Karen Lorre, James Russo, Robert Ito, Bobbie Phillips, David 'Shark" Fralick, Kevin Fry, Brian Hooks, Omar Benson Miller, and Jaqueline Fleming. Mok has also worked with directors Michael Kennedy, Eric Sherman, and William Rice, and has directed the film Obstacles, starring rappers E-40, D-Shot, and Suga-T, and actor Omar Benson Miller of the hit HBO TV series Ballers.
Harry Mok has been a producer on several films including College Kickboxers, The Vineyard, and The Breakout, and is currently producing Pet Robots and the upcoming film Animal Crackers.
Animal Crackers is animated film about Owen Huntington, voiced by John Krasinski of The Office. He is stuck at a dead end working for his father-in-law at a dog food factory that keeps him busy from seeing his wife, Zoe, voiced by Emily Blunt, and his three-year-old daughter, MacKenzie. One day, Owen learns that his long lost uncle has passed away and has left his circus to Owen. What seems like a huge blessing turns into a curse as Uncle Buffalo Bob's circus is broke; all of the animals are gone and most of the crew members and performers are too old to be much help for the circus.
It all appears to be a complete disaster, but then something amazing happens. Owen learns of his Uncle Buffalo Bob's secret from his uncle's friend, circus clown Chesterfield, voiced by Danny DeVito. Chesterfield gives Owen a box of magical animal crackers that gives the bearer the ability to become any animal in the box. All of the sudden, there seems to be hope for the family circus. If Owen can use the box to become the animals and perform, people will come watch the show and the circus will succeed again. However, Owen forgets one big thing: his Uncle Buffalo Bob has a brother, Horatio P. Huntington, voiced by Sir Ian McKellen. Horatio is the owner of the largest chain of circuses in the world and he will stop at nothing to get his evil and greedy hands on the box of magical box animal crackers.
Will Owen get to live his dreams and save the family circus, or will his evil uncle Horatio P. Huntington ruin them? This is a movie you must watch with its star-studded cast, featuring John Krasinski, Emily Blunt, Ian McKellen, Sylvester Stallone, Patrick Warburton, Danny DeVito, Raven-Symone, Tara Strong, James Arnold Taylor, Gilbert Gottfried, Wallace Shawn, Harvey Fierstein, Debi Derryberry, Brianne Brozey, Cam Clarke and Kevin Grevioux.
You can't afford to miss this movie; it's one your family would never forget. It's very well written, the characters are hilarious and unforgettable, and the actors really bring these characters to life. Owen is the loveable underdog small business owner taking on the evil corporate giant in his Uncle Horatio.
Tony Bancroft, Scott Christian Sava and Jaime Maestro did an excellent job directing this movie; just the trailer alone is worthy of awards. Dean Lorey and Scott Christian Sava should be proud for writing this masterpiece.
The Producers include Harry Mok, Gary Danklefsen, Brett Dahl, Ty Accornero, Michael Favelle, Kenneth Halsband, Curt Howe, Curtis A. Koller, Peikang La, George Lee, Leighton Lloyd, Nathalie Martinez, Rodger May, Chad Oliver, Caleigh Peters, Donna Lynne Sava, Danny Stepper, Jamie Thomason, Pan Pan Wu, Mu Yedong, Sasha Yelaun, Albert Espel, Marcus Englefield, Leiming Guan, Jaime Maestro, Sam Chi, and a wonderful team of people who helped make this film happen. It will be a movie you'll want to buy your kids or grandkids. I hope you see Animal Crackers in theatres or on DVD/Blu-Ray/Digital Copy when it's released. This was a very magical and beautiful film that made me feel like a kid again when I was watching Sky High, The Lion King, or Jimmy Neutron: Boy Genius. It was one of the best films I've ever seen in my life, and I think this film could be the next Toy Story-like franchise. Chesterfield the clown, Bullet-Man, and Samson the Strongman were so funny and memorable that I couldn't stop watching. I was on the edge of my seat wondering what would happen next.
I give this film five stars, so don't miss it!
Harry Mok is a genius, and it was truly an honor interviewing him. His acting and martial arts abilities are only matched by his ability to make great projects happen. He was one of the nicest and most humble people I've ever interviewed.
His next project is Pet Robots, and if it's anything like Animal Crackers, you won't want to miss it!