WKI Magazine Entertainment Article #41 Oscar "Big O" Dillon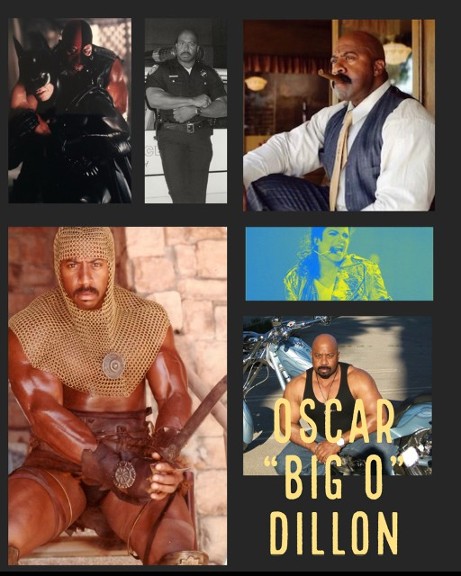 WKI Magazine Interview with
Oscar "Big O" Dillon
Bodyguard for Michael Jackson,
Police Detective, Actor, & Stuntman
WKI MAGAZINE: Tell us about how things were growing up for you?
Oscar Dillon: I endured many family tragedies and hardships due to my family's poverty level.
WKI MAGAZINE: Tell us about your career path as a detective for the St. Louis Police Department.
Oscar Dillon: I was sought out by my friend of the St. Louis Police Department, and was hired right after graduation from the academy. I won many honors as a decorated police officer and became a detective early in my career. I was a police officer for fourteen years.
WKI MAGAZINE: Tell us more about you being a body builder and a black belt?
Oscar Dillon: I won the "Police Olympics" five consecutive years in a row and won multipe titles in bodybuilding. I became one of the 'Strongest Men in the World' after having broken a world record in power lifting in 1980. I also acheived many bodybuilding titles such as Mr. St Louis, Mr. Missouri, Mr. Heat of America, Mr. USA, Mr. Mid-Valley and Mr. Ohio Valley. I am also a Black belt in Karate and Ju-Jitsu and a Golden Glove Boxer.
WKI MAGAZINE: When did you decide to go work in Hollywood?
Oscar Dillon: I realized that there was a broader meaning for me out there and I wanted to accomplish more to help my family and to make a difference in the lives of children in misfortune. In June of 1982, I decided to follow my vision and move to Los Angeles.
WKI MAGAZINE: How did your career in Hollywood begin?
Oscar Dillon: After arriving in Los Angeles I was hired by Motown Records to work as a bodyguard for Michael Jackson and the Jackson family. Being a big and friendly guy, I was approached numerous times by agents and managers in Hollywood to work in the entertainment business.
WKI MAGAZINE: Tell us about the first Hollywood Production you were involved in?
Oscar Dillon: I was hired by Universal Studios to perform as a sorcerer in the 'Conan the Barbarian' Show. I worked at the studio for 10 years until the show was cancelled. In and around that period, I worked for Mattel Toy Production Masters of the Universe as a character called Skeletor. I also worked with Robin Williams in 'Aladdins Oasis'.
WKI MAGAZINE: Tell us about other projects you were involved in?
Oscar Dillon: I co-starred and/or starred in over 35 movie productions, including Batman Forever (Val Kilmer), Disney's Magic Island (Zachary Ty Bryan), The Wood (Omar Epps), Memorial Day (Jeff Speakman), Tango and Cash (Sylvester Stallone and Kurt Russell), Rising Sun (Sean Connery and Wesley Snipes), Undisputed (Wesley Snipes, Ving Rhames), Biker Boys (Kid Rock, Laurence Fishburne), El Padrino (Faye Dunaway and Robert Wagnbiger), Cat in the Hat (Mike Meyers), Idlewild (Terrence Howard) and many more action movies and Disney Live Shows. I have done over 50 commercials, including and most notable the Caesar's Palace Gladiator fight commercial. I also appeared in over 50 television shows, including the Young and the Restless, Baywatch Nights (David Hasselhoff), Family Matters, The Andy Dick Show, Saved by the Bell, Beverly Hills 90210, Spy TV, etc
WKI MAGAZINE: Tell us about some of your hobbies?
Oscar Dillon: I enjoy riding my Harley Davidson, horseback riding, playing sports and continuing to work out in the gym.