WKI Magazine Entertainment Article #11
Shannon Ritch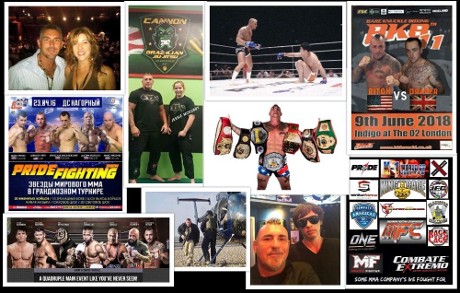 I recently had the honor of interviewing United States Army Veteran and Mixed Martial Arts legend Shannon "The Cannon" Ritch, the most active fighter in the world. Shannon has fought all over the world, including Brazil, Burma, Canada, China, England, Holland, Mexico, Puerto Rico, Romania, Russia, Singapore, Thailand, and all over the United States.
In 1991, Shannon made his MMA debut, it was called NHB: No Holds Barred, in a Mexican bull fighting arena called Plaza Del Toro in Nogales, Mexico. In 1996, he enlisted in the army. While he was serving his country in the army, he broke both of his legs, suffered chronic stress fractures, and developed pitted edema. But he didn't let didn't let the pain he suffered everyday stop him when he began fighting in MMA after his service. He was determined to make himself come back and started winning again.
Throughout his MMA career, he has 236 professional MMA wins, a record of 25-2 in bare knuckle boxing fights, won eight world titles, and twenty-eight belts in big promotions.
Some of titles he has won include:
IFC- Middleweight World title
King of the Cage- Middleweight World title
Gladiator Challenge- Heavyweight World title
Showdown- Middleweight World title
AFC Russia - Middleweight World title
Rage in Cage- World Title
IHR- First ever Native American World title
Hermosillo Mexico - Middleweight World title
Three Time Bad Boy- Middleweight World Champion
He has been featured in many notable magazines, including ESPN Magazineand Rolling Stone. He has been seen on television shows like Walker Texas Ranger, I Carly!, Numbers, and CSI: Las Vegas, as well as appearances on theUltimate Soldier and History Channels. From 2003 to 2005, he took some time off from MMA to serve in Iraq, during which time he was a bodyguard for the United States Ambassador to Iraq.
Shannon Ritch hasn't let any of his success go to his head or change him like most athletes do. He enjoys making appearances in cities that he's fighting in and inspiring others never to give up and fight for the things they believe in. He has also given much to his own and other communities and has touched many lives along the way with public speaking. He has inspired many children and teens to follow and pursue their dreams and brought attention to serious issues like bullying and cancer. He once stepped up on very short notice when many fighters wouldn't answer the challenge and he fought former UFC Champion Evan Tanner to help pay for the treatments of a child with cancer.
Shannon owns his own Brazilian Jiu-Jitsu school called Cannon Brazilian Jiu-Jitsu. He coaches and mentors a great group of kids that has risen to be one of the best teams in the state of Arizona. His star pupil, 15-year-old Jessie "The Beast" McCurry, has already been winning world titles and beating grown women who have more experience than her. She has already been compared to a young Rhonda Rousey, and many writers predict that she'll be a force to be reckoned with in the world of MMA under the guidance of the legendary Shannon Ritch.
In my experience, I have been to many gyms and schools and I've rarely seen instructors who take so much time to help their students and care for them as much as Shannon does. It is truly inspiring to see an athlete with so much success who gives back the way he does.
Shannon Ritch would like to thank his wife, former model Lara Ritch, for always being there for him, and his assistant, Jet Lee. He would also like to thank Garrett Flanders, Tommy Martin and Don McCurry.