WKI Magazine Entertainment Article #15
Cung Le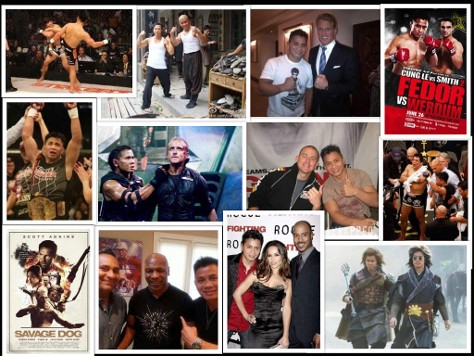 WKI Magazine Interview with
Cung Le
Hollywood Action Villian / UFC Fighter
I recently had the honor and privilege of interviewing Mixed Martial Arts and kickboxing great, Cung Le.
Cung Le was born in Saigon, South Vietnam (now ho chi Minh city) in 1975, three days before the fall of Saigon. Le and his mother Anne left Vietnam by helicopter under heavy gunfire, while his father stayed in Vietnam and was caught as a prisoner. After a few months in a refugee camp in the Philippines, Le ended up in San Jose, California where he dealt with discrimination and bullying. It was one of the reasons he wanted to learn martial arts. His mother enrolled him in Tae Kwon Do classes at age ten.
Le began wrestling competitively at the age of fourteen, and by his junior year of high school he earned All-American honors. He went on to wrestle for West Valley College in Saratoga, California and won the California Junior College State Championship in the 158-pound weight division in 1990, earning All-American honors.
Le also trained in a variety of martial arts, such as Kuntao, Vovinam, Sambo, boxing, Sanshhou, and kickboxing around age 19. He held a professional kickboxing record of 17-0 and is a three-time world champion in kickboxing, and a one-time world champion in mixed martial arts defeating the legendary Frank Shamrock by TKO in their epicFight for The Strike Force Middleweight Championship. Le broke Frank Shamrock's arm during the fight in the third round.
Cung Le is also a great actor who has been in some big Hollywood films including the 2009 film Fighting with Channing Tatum and Terrance Howard.
A list of some of Cung Le's Championships and Films:
Kickboxing
International Kickboxing Federation
IKF Sanshou Light-Heavyweight World Championship
ISKA Sanshou North American Lightheavyweight championship
Black Belt Magazine 2007 Kung Fu artist of the year
MMA
Strikeforce Middleweight World Championship
Tied most finishes in Strikeforce history
Most Knockouts in Strikeforce 7
Notable wins in MMA
Knockout win over former UFC Middleweight World Champion Rich Franklin
Knockout Win over from WEC Lightheavyweight World Champion Scott Smith
TKO Win over former UFC Light Heavyweight World Champion, former WEC Lightheavyweight World Champion and former Strikeforce Middleweight World Champion Frank Shamrock
Films
Manh in 2009 film Pandourum with Dennis Quaid, Ben Foster, Cam Cigandet, and Norman Reedus
Yan Xiao-Guo's Henchmen #1 in 2009 film Body Guards and Assassins with Donnie Yen, Bingbing Fan, and Yu Chun Li
Militia Leader in 2010 film True Legendwith David Carradine, Jay Chou, Andy On, and Michelle Yeoh
His memorable role as Marshall Law in 2010 film Tekken with Cary-Hiroyuki Tagawa, Ian Anthony Dale, Kelly Overton, Luke Goss, and Mircea Monroe
Hong in 2012 film Dragon Eyes with Jean-Claude Van Damme, Peter Weller, and Sam Medina
Bronze Lion in 2012 film The Man with the Iron Fists with RZA, Russell Crowe, Lucy Liu, Dave Bautista, Eli Roth, and Pam Grier.
John Nguyen in 2014 Film Puncturewounds with Dolph Lundgren, Vinnie Jones, and Robert Lasardo
Logan Le in 2015 film Code Name: The Dragon with Russell Peters and JonLee Brady
Dead Eyes in 2017 film Security with Antonio Banderas, Ben Kingsley, Liam McIntyre, Chad Lindberg, Gabriella Wright, and Shari Watson
I highly recommend watching his very memorable performance as Boon in 2017 film Savage Dog with Scott Adkins, Keith David, Charles Fathy, Matthew Marsden, and Luke Massy. You can find this film on Netflix!
Me: What inspired you to become a martial artist?
Cung Le: Bruce Lee inspired me to become a martial artist.
Me: Who was in your opinion was your toughest fight during your MMA career?
Le: Toughest fight for me in my MMA career was Michael Bisping because I couldn't see what was coming early in the second round when he injured the bone underneath my eye ball.
Me: What is it like for leading up to the fight with Frank Shamrock and what was it like fighting him?
Le: Leading up to Frank Shamrock fight was a very nervous but exciting time for me. The ups and downs of a massive title fight against a legend. Plus, he made it fun how he tried to get in my head.
Me: Who was were some of your favorite fights kickboxing?
Le: Some of my favorite fights in Sanda Kickboxing was fighting the best Chinese fighter at the time back in 1999. He was the King of Sanda at the time and I TKO'd him after the 3 round in a 5 round fight.
Me: What was it like fighting Jason Yee and Shonie Carter?
Le: Both the Jason Yee and Shonie Carter fight was fun fights for me. I wanted to work all my crazy moves and was able to do almost all of my moves to both of them.
Me: What have been some of your favorite films you've worked on?
Le: Some of my favorite films I got to work on was Dragon Eyes with Van Dame, Grandmasters with Tony Leung and Bodyguards and Assassins with Donnie Yuen.
Me: Who have been some of your favorite actors and actresses to work with?
Le: My favorite actor I got to work with was Channing Tatum and my favorite actress I would have to say Lucy Liu.
Me: What has been your favorite acting role?
Le: My favorite acting role was a short film I did called Code Name: The Dragonwhich I am developing for a TV Pilot.
Me: And which of the characters that you've played would you say is like you the most?
Le: I'm in pre-production for a movie called The Target where I will co-direct, I wrote the script, I will produce the film and develop the character's fighting style along with working all my new tactical fighting and shooting I have got a chance to work on for the last 3 years.