WKI Magazine Entertainment Article #16
Neeco Macias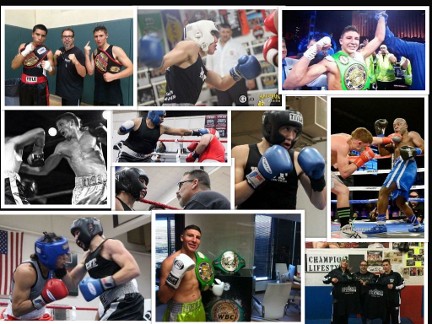 This story all starts in the 1970s, when a young Al Macias Jr. followed in his father's footsteps and decided to start training at Santos Boxing Gym in Antelope Valley with Andy Santos. Al wanted to box like his father, Al Macias Sr., who was an amateur boxer. Al Macias Jr. competed for eight years until an unforeseeable injury ended his dreams of becoming a professional boxer. Even though he knew he could never enter the ring as a fighter again, his love for the sport never died.

He began training his sons, Neeco and Chazz Macias, at a very young age out of his garage. One day, when Neeco Macias was walking back home from church, three men tried to mug him. They attacked Neeco and it ended up being one of the stupidest things they could have done. After a few minutes, all three men where on the ground, knocked unconscious. They eventually tried to press charges on young Neeco after they tried to rob him, and the charges were dropped.
After that incident, Al decided to put Neeco in the boxing ring to keep him focused and out of trouble. Neeco's drive and determination helped him rise through the ranks in amateur boxing. He won The Golden Gloves, The Blue and Gold Nationals, The Desert Showdown and other big tournaments. His amateur record was 40-2, with his only two loses being questionable decisions, one of them to Tavorous Teague to whom he avenged the loss and knocked out in the pros. He knocked Tavorous out in the fourth round of their fight.
As a professional boxer, Neeco Macias has a record of 16-0 with 9 wins by knockout.

Neeco Macias notable wins:
A unanimous decision victory of Limbreth Ponce.
A televised fifth round TKO victory over a heavily favored prospect Rolando Garza; a fight no one believed Neeco had a chance to win, landing the WBC United States Super Welterweight Title. Garza hasn't fought since.
A unanimous decision victory over Cesar Berumen, a tough and very experienced veteran who's won some titles.
Knocked out Travis Hartman out in the second round of their fight. Hartman has a lot of experience and had boxed a lot of greats, including some world champions and former champions likeJessie Vargas, Keith Thurman, Julio Cesar Chavez Jr., Jorge Paez Jr., and Terrence Crawford.
He retired Paul Mpendo in five rounds in a televised fight. Mpendo never fought again.
Neeco's next fight is scheduled for September 1st in a televised fight on Golden Boy Boxing against an 8-0 undefeated prospect Marvin Cabrera .
Inspired by his older brother, young Chazz Macias started boxing at age 13 when he went to one of Neeco's amateur fights. Chazz had always loved boxing and loved to fight. Guided by his father, Al Jr., Chazz got into boxing and made a name for himself in the amateur ranks. His record was 48-12. with most of the loses being very questionable decisions in other fighters' cities, and with hometown judges who literally robbed him of some title belts he had earned.

Personally, I've seen some of his vicious knockouts at some shows. Two of his knockouts were both under 40 seconds each. Chazz's ring entrance took longer than both fights combined. Chazz's explosiveness, punching power, speed and defense made him one of the most feared and avoided amateur fighters in California. It became a real challenge to even get Chazz to fight as an amateur anymore because so many opponents were afraid of him. I have seen three opponents in a row pull out of fighting Chazz the day of the fight; one even an hour before the fight.
After so many opponents pulling out of fighting him, Chazz got annoyed and decided to follow in his brother's footsteps and go professional. He went and won his first professional fight in the first round with a knockout victory over Corey Roberts. His time was one minute and twenty-two seconds. Chazz said it was just another stepping stone on his way to greatness. His next fight is scheduled on September 29th against Gerardo Alvarez of Santa Maria in Bakersfield, California.
Al also has an undefeated heavyweight prospect 1-0 Jason "King " Soto, who won his last fight by knockout in the first round on the Thompson Boxing Promotions show back in July against Samuel Perez. His next fight is scheduled for September 29th in Bakersfield against Ignacio Zambrano of Torrance, California.

Al also has Juan 'The Bandit" Villalobos making his pro debut in Bakersfield in September 29th, and great amateur boxer "Ferocious" Fernando Villalobos on the team who's possibly looking at boxing professionally soon.
Al Macias said his greatest accomplishment hasn't been watching his kids win inside of the ring, it's seeing what they've done outside of it. Al has kept so many at risk youth off the streets by giving them an outlet and molded so many kids and teens into great people. He said the kids who really want to change and put in the work really shows later in life. And the ones who keep slacking and refuse to change just get rid of themselves.

Most of the kids, teens and even young adults Al has trained have gone on to do good things and become positive and contributing members of their communities. Some have gone off to college and done well for themselves. Al, out of the goodness of his own heart, has even taken some at risk teens off the street and even opened his own home to some of them. People have even asked how one man can do so much for his community and so many people.
So, I asked Al Macias how does it.
Al Macias: I don't have much, but with what little I have I put my heart into helping everyone that comes through those doors to train at my gym. I know not everyone that walks through those doors will be a world boxing champion or an Olympian, but I know they can become an even better person and a much stronger one. I don't just train pros, I train amateurs, cops, fire fighters, adults, teens, kids.
Al has one of the most affordable gyms in Kern County.

Me: how can you charge so little when so many other gyms in the county charge double or more than he does a month?
Al: I don't train people for the money like most do where they look at people they train as a dollar sign. I train people because I love doing it and because I see the opportunity to take and give something to these people in their lives and be there for them and to take young people and mold them into future leaders of tomorrow.

Me: what's your greatest accomplishment?
Al: my greatest accomplishment wasn't making my sons professional boxers, it was making them into great people and raising great kids. And helping change the lives of so many kids who came through my gym doors over the years.

Me: with your crazy busy schedule, what keeps you going?

Al: what keeps me going is knowing I can change the lives of these kids who people gave up on or never believed in or were never given a chance and take and give them something positive in their lives and teach them skills and things that will go on with them for life. I'm prouder to see what they accomplish outside of the ring than in it. I've coached so many amateur champions and some pros, but I'd be prouder to see more doctors, nurses, lawyers, teachers, engineers, cops, firefighters.
Me: what's it like being an award-winning boxing coach and named best Boxing Trainer in Kern County?
Al: I could careless those awards don't really mean anything to me. To other coaches, that's all they really care about is awards and recognition but that's not me. My award is seeing my kids do great in and outside of the ring. That's the greatest thing I've been awarded was coaching so many great kids.
Al Macias is one of the most humble, generous and caring people I've ever met and any person who is lucky enough to walk through the doors of his gym to train with him or to visit will see how great his and how big of a heart he has. It really shows when he's coaching those kids, teenagers and adults.
I highly recommend joining The Macias Boxing Team Gym in Tehachapi, California if you're near the gym. It's definitely a great place to go train.