WKI Magazine Entertainment Article #30
Roberta E. Bassin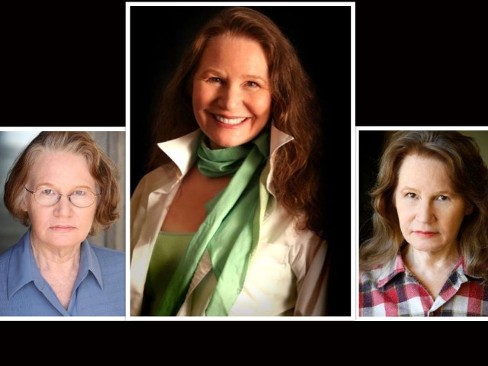 WKI Magazine Interview
with
Roberta E. Bassin
Actress/Producer/Writer
WKI MAGAZINE: What can you tell us about your appearance on HBO's Ray Donovan?

ROBERTA E BASSIN: "Ray Donovan" was a warm and welcoming set.

John Voight and I shared show "biz" war stories about our acting experiences over breakfast. He even insisted on carrying my tray!

It was such a joy to work with Liev Schreiber and director Colin Bucksey. It was very much a collaborative experience asking for my input as well!

Liev and I had a lovely rapport. He makes you feel so comfortable.
We had a fun chat while enjoying a snack of papayas & mangos.


WKI MAGAZINE: How was it working opposite Mickey Rourke in the film classic "Barfly?"

ROBERTA E BASSIN: As an actor, Mickey pulled out all the stops. He lived his character. He might do something surprising to initiate an organic response in the scene from another actor. He was truly immersed in his craft.

Mickey had a number of fist fight scenes with Frank Stallone, who played Eddie the Bartender. Off screen they were real life sparing partners!

Working with director Barbet Schroeder was a magical experience. The director sets the tone on the set. Barbet was always charming and calm. He gave attention, respect and support to all. He is a an actor's director. Barbet allows an actor's creativity to flow. The legendary Faye Dunaway was personally supportive. She took me under her wing with warmth and grace.

I got to know writer Charles Bukowski and his wife Linda. They had asked me to show them around the set as it was a new experience for them. Ironically, it was all new to me too! While showing them around, Bukowski told me my character, Lilly, was based on a woman he knew. He shared other facts of his life and of writing "Barfly."


WKI MAGAZINE:Tell us about your experiences working with Clint Eastwood and Leonardo Di Caprio in J. Edgar.

ROBERTA E BASSIN: Clint Eastwood is the definition of "cool." Everyone said "it was the best set they ever worked on!" It was quiet, smooth running and efficient. From the moment I arrived I was treated like a queen.

Leonardo was so gracious introducing himself to me. I had the opportunity to watch him and Clint work together. The suggestions Leonardo made were added to the scene. Clint is very open to his actors input.

I was told Clint is known for two rehearsals then shooting the scene. Much to my amazement, this proved to be the case. Clint jokingly said, "Sorry it took so long." He has a wonderful sense of humor.

Needless to say, it was a wonderful experience! He exudes a light from within, brilliance like I've never seen of approval and warmth.

I hope every actor and crew person has a chance to work with Clint Eastwood.

WKI MAGAZINE: What piqued your interest in writing a book about Amelia Earhart? Tell us about your live one woman theatrical show?

ROBERTA E BASSIN: I had been researching Amelia Earhart and performing my play "Amelia Earhart: In Her Own Words" for many years. I felt like I knew her so well. Whenever I had a dilemma, her words would come to mind giving me courage, comfort and perspective. If Amelia's words were so helpful and motivating to me, then it should follow that I could motivate and inspire others by sharing our journey - Amelia's and mine.
And so the book, "Amelia Earhart, Me and Our Friends, Journaling the Journey, The Amelia Earhart Self Help Book" was born.
http://www.amazon.com/dp/1523738561

My one woman show, "Amelia Earhart: In Her Own Words"
brings together all my passions: history, teaching and acting.

Amelia Earhart was a visionary. She was courageous, strong and spoke out on social issues and for the advancement of women.

Performing as the famous aviatrix is thrilling and rewarding. It is always fascinating to see and hear the audiences enthusiasm.

The Question and Answer portion of my program is especially fun. I'm excited to discuss current news, disappearance theories and little known facts about Amelia. Many attendees have and share personal experiences and knowledge about Amelia which is fascinating!

I hope to inspire and motivate others through Amelia's words and deeds to follow their dreams and passions,

As Amelia said, "to want in one's heart to do a thing for it's own sake, to enjoy doing it, to concentrate all of one's energies upon it - that is not only the surest guarantee of its success, it is being true to oneself. If there is anything I have learned in this life it is this, if you follow the inner desire of your heart, the incidentals will take care of themselves."

WKI MAGAZINE: You have worked on big name TV shows like Shameless, Ray Donovan, Major Crimes, Grey's Anatomy, Criminal Minds, Crossing Jordan, ER, The Pretender, American Dreams, how does it feel to have accomplished so much?

ROBERTA E BASSIN: I feel very grateful each and every day to have had so many wonderful opportunities and experiences being able to do what I love. I get to work with so many incredible and talented people.

I still feel like I have just begun my journey as an actor. I still do all the same things I did when I first began my entry into the world of acting. I enjoy my acting classes and collaborating with other creative people. I'm thrilled every time I walk onto a movie lot. I experience the excitement of being on the set as if it were the first time. Whether it be on stage, film, or television, I love performing!


WKI MAGAZINE: What other projects are coming up for you, in the future?

ROBERTA E BASSIN: I'm excited about the Emmys this year and my 2019 bid for Outstanding Guest Actress in a Comedy Series in Showtime's "Shameless!" I play the recurring character of Mrs. Winston, a career teacher surviving her unruly third grade class!

You can also catch me as a series regular in the very funny and inspiring webisode "Donna on the Go" created by Peggy Lane O'Rourke and starring Donna Russo.

Watch for my upcoming film, "The Anarchist" opposite Rita Tushingham.
May all your dreams come true!


For more information on Roberta visit:

IMDb Link:
http://www.imdb.me/robertabassin

Represented by Laura Lichen Management

https://lauralichenmanagement.com/roberta_e_bassin/