WKI Magazine Entertainment Article #32
Malgorzata Kipczak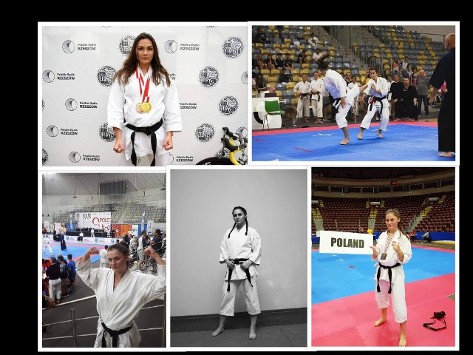 WKI Magazine Interview
with
Malgorzata Kipczak
Polish Karate Champion/World Karate Vice Champion
WKI MAGAZINE:When did you start training in karate? What was the reason you started training in karate?
MALGORZATA KIPCZAK:It was 12 years ago. I started training Karate in 2008 when i was a little kid. I was 8 years old. Why I chose Karate? I chose Karate because my best friend encouraged me to do it. She didn't have any friends at Dojo, and she felt very lonely, so she offered me to go with her on the next training. I accepted her offer and I went with her on the next training. It was great experience, I really enjoyed the first training. I didn't have any belt. My first training mainly based on fun and got to know basic punches. It was something different to me, something cool and I knew that it will be my favorite thing in life. I have great memories because I met a lot of interesting people on my first training and they are my friends now.
WKI MAGAZINE:Who was your teacher and how long have you been training for?
MALGORZATA KIPCZAK:It will be 12 years in 2020 year. Marta Niewczas was my Sensei in the old academy of Traditional Karate. She is a few times World Champion in Traditional Karate. She taught me a lot of punches and kicks, she paid attention on details in my Kata's and Kumite. She prepared me for Championships when I was a kid. Piotr Ramot was my second Sensei, he taught me also a lot of karate techniques. Later we set up our academy and I trained alone for my competitions. I didn't need a coach because I had determination. I was the best in my age category. I learned a lot from my trainers. After my black belt exam I was training myself because I know how to do it and my trainers didn't have a lot of time for me, because they took care of the younger kids.

WKI MAGAZINE:Do you have someone who motivated you to train in martial arts?
MALGORZATA KIPCZAK:I motivate myself to train in martial arts because I know that I never give up and I know my value. My parents and friends motivate me a lot also. They are very important in my sports career and in my life. They give me more power to my life because they are always next to me.
WKI MAGAZINE:Tell us about your Polish Karate Championship win?
MALGORZATA KIPCZAK:It was 2 years ago in June. The Polish Traditional Karate Championship took place in Polish City, Opole. I was very excited because I was preparing very hard for them for several months. I was in excellent form. I competed in 2 competitions. The first was Fukugo. After long starts I took 3rd place. The second was Kumite. Fighting with my opponents didn't cause me a problem, because I was well prepared and I did it myself. I rode a bike a lot, I went to the gym. I felt very good and determined. I felt a little pressure, because I had 2 years break from Karate, after changing the old Karate club. I wanted show what I could do. Durning Kumite I scored a lot of points for my punches and kicks. I was in the final and I won first place. I got a gold medal and diploma. Polish Karate Championships lasted 2 days. It was great 2 days with friends and family, cheering me on. They were my motivating, I won for me and for them. After my Championships I went to my City Rzeszów. I had a lot of interviews in TV, Radio and newspapers, because my city supports sports very much. It was really kind for me becuase I felt appreciated. In my club I got a bunch of roses and cake. We celabrated my success. So... summarazing I won 2 medals durning Polish Championships, bronze in Fukugo and Gold in Kumite and from this moment I was in National Polish Representation.
WKI MAGAZINE:Tell us about your World Karate Vice Championship win?
MALGORZATA KIPCZAK:Also it was 2 years ago in October. The World Traditional Karate Championship took place in Canada on the St.John's Island. My journey to this place lasted a long time, because I had to fly by airplane. Canada is really far from Poland. We had our first change in Germany, The second we had in Canada. When we arrived at hotel on the island, we had a few free days. We visited a lot of places and we were training before our comepetitions. The World Traditional Karate Championships were in the same year as Polish Traditinal Karate Championships, so I was in excellent form too. From June to October I was training all the time, because my success motivated me more. I was there with National Polish Represantation. I felt also really excited because it was my first time in this type of competition. I competed in 2 competitions. The first was Fukugo. I took 3rd also. The second was Kumite. I was really good and in final I lost only because I got a punishment in the last minutes on the fight. I was better than my rival, but I lost serval points. I took 2nd place only through my punishment. I could have been first. I don't feel worse since I lost only because of my punishment. It was really amazing experience for me. I visited Canada and I competed with a lot of girls from different countries. When I went to Poland my parent was really proud of me, They gave me gold cup and said that I have always been a fighter and the place is not important. I had a lot of interviews too. I celebrated my succes with my club, friends and family. They were really pround of me. I got 2 medals. Bronze in Fukugo and Silver in Kumite.
WKI MAGAZINE:Do you plan competing again and when?
MALGORZATA KIPCZAK:No, because I have more important things in my life. I have to pass my school leaving exam, and the situation at my club got worse. I won't say why becuase it doesn't fall out, but not becuase of me. I think about different martial art for example kickboxing or Olympic Karate. Traditional Karate was amazing experience in my life. Karate taught me how to be a good person, and how use my skills when somebody attack me. I have different prioritets in my life now. Maybe I start training Karate in the future again but as Sensei.
WKI MAGAZINE:What are your plans for the future, school, work, or dreams?
MALGORZATA KIPCZAK:I have a lot of plans. I thought about Sport and cosmetology. I would like to be personal coach or dietetican. I love sport and I like helping people. I go to the gym very often and train hard, so I thought it will be a good option because this is my passion. My passion is also cosmetology. I would like to be make-up artist also. I love doing make-up on my girls and myself. I am really creative so It could be amazing way for me. I have to end my school now, and after school I will see what life brings me to. I hope my dream job comes true. If it comes to dream I would like to go to USA and Japan. USA and Japan always was my dream. I would like to know traditions and cultures in these countries. I think in the future my dreams will come true. I never give up so it will be easy for me. Karate taught me how to never give up and how to be determinate so I can handle life.
For more information on Malgorzata Kipczak look her up on Instagram as:
malgorzatakipczak