WKI Magazine Entertainment Article #13
Temre Morgan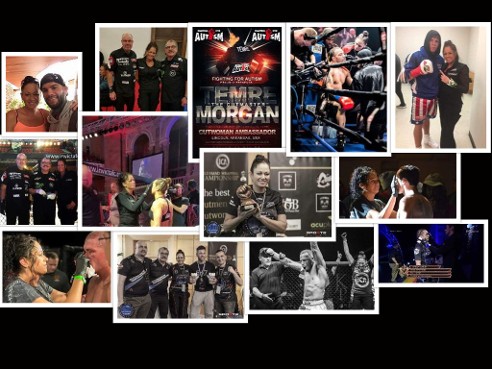 I recently had the pleasure of interviewing one of the best cutmen/cutwomen in the world today:Temre "The Cutmaster" Morgan. Temre has always been a life-long fan of professional boxing, kickboxing, muay thai, and MMA.
Due to women's MMA being limited and not very popular around at the time when Temre was an athlete, she never got her chance to compete in the cage. Instead, Temre decided that if she if she can't fight, she'll do the next best thing: fix the fighters up so that they can go out and fight.
Temre has a medical background as a board certified surgical technologist. She went to Northwest Technical Institute in Springdale, Arkansas. She completed the surgical technology program and has been teaching the same program since 2010.
Temre started being a cutwoman in 2009 when it was a profession in a male dominated sport, and to be taken seriously, she had to overcome several obstacles. She would try talking to veteran cutmen and try to ask for advice or input, but no one would take her seriously or even give her the time of day because she was a woman. That all changed one day when one of the greatest cutmen of all time and honorary President of the ICA, Jacob "Stitch" Duran, came and took her under his wing. He was the first person to ever reach out to her and he helped her become one of the best cutmen/cutwomen in the world today.
With every show, Temre kept improving and started winning the respect of many people in the world of professional and amateur fighting with her work and professionalism.
Temre told me that in that one minute in between the rounds that a cutman must work with on their fighter, they only really have 45 seconds of actual time. During the fight, she's analyzing the swelling or the cuts on her fighter's face and thinking of how she will fix it. As soon as that bell rings to end the round, Temre rushes over to her fighter and gets to work on them.
On November 21, 2015, on the Gladiator MMA Fight Show, Temre had a real challenge that night when her fighter, Marcus Sursa, took on the heavily favored former UFC fighter, Thiago Silva.
During round 1, Sursa and Silva looked like they were fighting in a phone booth, with neither man giving the other man an inch. Towards the end of the round, Silva landed a series of devastating elbows above the nose right above Sursa's eye that sent blood pouring all over his face. Sursa was wiping the blood off his face so that he could see as he's still fighting Silva. As the bell rang, Sursa smiled and stuck his tongue at Silva, who just looked surprised.
In Sursa's corner, the fight doctor came in and threatened to stop the fight. Temre told the doctor to give her one minute to fix Sursa's cut before he made that decision. The doctor agreed to give her that minute despite thinking that there was no way she could fix It. Temre got to work and was able to clean the cut and stop the bleeding. The fight doctor was very impressed with her work and let the fight continue.
In round 2, a minute into the round, Sursa landed a right elbow to Silva's head that it dropped Silva onto the canvas. Sursa got on top of Silva and landed a series of unanswered punches to Silva's head before the referee finally rushed in and stopped the fight. Marcus Sursa won by TKO in round 2 and scored of MMA's biggest upsets of the year over UFC Veteran Thiago Silva.
It was a huge moment for Sursa, being able coming back from a serious cut that would normally stop any fight; thanks to his cutwoman, Temre "The Cutmaster" Morgan, he was able to continue and shock the world by knocking out Thiago Silva.
Temre's career has continued with working many shows and events over the years. She has worked the IMMAF World Championships in Las Vegas during fight week, with three cages alongside each other. There were 154 fighters on the first day.
Some of the promotions she has worked on include an Invicta Show with Jacob "Stitch " Duran and Sid Gee, FCF Rumble on The River, Xtreme Fight "Night," to name a few. Temre has also done work with other notable cutmen including Rudy Hernandez and House from UFC. She is also privately hired by many professional fighters, because having a great cutman or cutwoman in your corner is a very smart and important investment in a fighter's career.
Notable fighters she has worked on include: former UFC Fighter Houston Alexander, Dillion Cook, Aaron Robertson, Alfred Walker, and up and coming and currently undefeated boxing prospect, Kenzie Morrison, the son of late boxing legend and former World Boxing Champion, Tommy Morrison.
Temre is always busy working at least 75 or more shows a year. Back in May, she was on a team competing in the International Cutman Association's World Hand Wrapping Championships in Athens, Greece, against some of the best cutmen and cutwomen in the world. Greats like Tommy McCormack was among the competitors, along other greats from around the world, and Jacob "Stitch" Duran was one of the judges. Temre competed against the best of them and took 4th place overall. Although she didn't win the gold, she did win the respect of so many in the world.
Other honors and awards of Temre Morgan:
The Second American woman ever inducted into The International Cutman's Association
4th place in the ICA World Hand Wrapping Championships of 2018
Took 2nd place to Jacob "Stitch" Duran
Fightbook MMA's fan favorite cutman/cutwoman of the year, 2015 and 2016
When Temre isn't teaching or working as a cutwoman, she stays busy. This year, she has appeared in two films: Then the Night Comes and Indestructible: Afterlife. She is the co-founder of a non-profit organization in Lincoln, Arkansas, called Choctaw Youth Ranch Inc., where disadvantaged youth can come to learn horsemanship and unconditional love of an extraordinary animal.
I asked Temre what helps make a good cutman or cutwoman, and she said: "Experience in trauma, being able to work in difficult situations under pressure, quickly and professionally." She also said that wrapping hands is very important because doing it wrong can lead to serious and possibly permanent injuries that could end a fighter's career before it even gets a chance to start.
The determination, work ethic, professionalism, and drive Temre Morgan has is just inspiring to see how much she has accomplished since she started back in 2009.