WKI Magazine Entertainment Article #36
Hersh White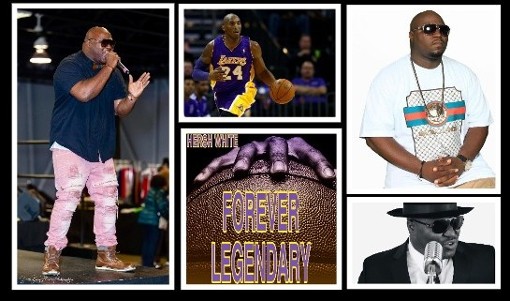 WKI Magazine Interview with
Hersh White
Entertainer / Created Kobe Bryant's Tribute Song:
"Forever Legendary"
WKI MAGAZINE: How long have you been in the music industry?
HERSH WHITE: It's been my passion since I was a young man. I started at 19 years old in the Bay Area; its been 21 years. I started out with a two man singing group called "Original".
WKI MAGAZINE:What artist have you worked with in the past?
HERSH WHITE:Recently I've worked with Platinum Grammy Award winning producer Derrick "DOA" Allen. He's worked with artist such as Janet Jackson, Lionel Richie, Bobby Brown and Tyrese. I've also worked with Kevin Hart, Nate Dog, Ginuwine and Tupac's group, Outlaws to name a few.
WKI MAGAZINE:Tell me about the message behind the song "Forever Legendary"?
HERSH WHITE:First, the late Kobe Bryant inspired the song. I asked my cousin Sav L. to prodcue an inspiration beat for this vision and we created, "Forever Legendary". Also, I'm a die hard Lakers fan. I just wanted to show his greatness on court and off the court and how he inspired other people including myself. Additionally, society doesn't really highlight black men in a positive light; therefore, I wanted to express the great legend that he is.
WKI MAGAZINE: Tell us about your label?
HERSH WHITE:The label is called, "Gamer Boy Music". My close cousin, Sav L. and myself were tired of waiting for other producers to give us beats, so we came up with our own label. Years back, I came up with the name, "Gamer" and my cousin came up with the name, "Gamer Boys". We noticed everyone saying they were, "players" or "pimps" back in the day. We werent with that, so we came up with "Gamer". Then years later, we came up with "Gamer Boy Music". Our slogan, "We control the game", represents us not having to wait on anyone. We control what we want to produce and when.
WKI MAGAZINE:What are your plans for the future?
HERSH WHITE:I want to sign more artists and to keep putting out great music. Gamer Boy Music is also a promotion comapny; therefore, I want to start putting on live shows. Also, I want to collaborate with local and major artist.
WKI MAGAZINE:Tell me about your community involvement and it's importance to you.
HERSH WHITE:I've donated my talent to Juneteenth celebrations and mentored people around the community. It's important to me to lead a life of positivty, with strong values and morals to set an example and to inspire those around me.
WKI MAGAZINE:Tell me about the PnK vision movement?
HERSH WHITE:PnK stands for "Parents and Kids". It's a vision for a foundation that I had. It will be a foundation to nuture parents spending more time with their kids. Being raised by a single mother, now being a father myself, I have fallen short of some things. The love of my family, inspires me to better myself as a father. Especially because I have two little ones who are precious to me, that are looking up to me. I see this missing in some families and I wanted to create a place that will improve the love and interaction between a parent and their children. It strengthens the kids, shapes their future and ultimately improves the community.