WKI Magazine Entertainment Article #38
Karen Bankhead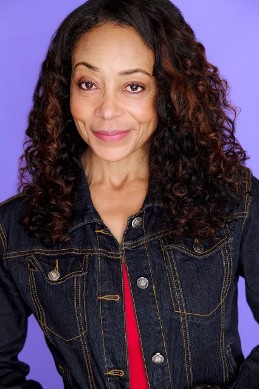 WKI Magazine Interview with
Karen Bankhead
(ETTA MAE MUMPHRIES)
WRITER ACTOR AND COMEDIAN
Interview written by: Jeff Ace Walker and Poppa Will
WKI MAGAZINE: WHERE ARE YOU FROM?
KAREN BANKHEAD: I GREW UP IN AN AIR FORCE FAMILY AND WE LIVED IN CALIFORNIA, ARIZONA AND MISSISSIPPI, BUT WE SETTLED IN SAN JOSE CALIFORNIA.
WKI MAGAZINE: IS THIS THE CITY YOU GREW UP IN?
KAREN BANKHEAD: YES I CONSIDER SAN JOSE MY HOMETOWN.
WKI MAGAZINE: WHAT HIGH SCHOOL DID YOU GRADUATE FROM?
KAREN BANKHEAD: PIEDMONT HILLS HIGH SCHOOL, WHERE I WAS STUDENT BODY PRESIDENT AND ALSO PLAYED SOCCER AND SOFTBALL AND WAS IN THE BAND AND ORCHESTRA.
WKI MAGAZINE: IS IT TRUE THAT YOU WERE IN A DRAMA CLASS?
KAREN BANKHEAD: YES, I PARTICIPATED IN DRAMA IN MIDDLE SCHOOL AND HIGH SCHOOL. THAT'S WHERE I MET OUR FRIEND JEFF WALKER. I ALSO TOOK CLASSES IN THE COMMUNITY AT A WONDERFUL PLACE CALLED THE INSTITUTE OF AFRICAN AMERICAN ARTS AND CULTURE.

WKI MAGAZINE: WHAT INSPIRED YOU TO PURSUE ACTING?

KAREN BANKHEAD: AS A CHILD, LIKE MANY KIDS, MY SISTER AND I LOVED TELEVISION AND REENACTED SCENES FROM ALL OF OUR FAVORITE SHOWS. SO, BEING ABLE TO PARTICIPATE IN PLAYS AND MUSICALS WAS ALWAYS MY FAVORITE THING TO DO (ALTHOUGH MY SINGING SKILLS ARE NOT SO GREAT - BUT I WILL SING!)
WKI MAGAZINE: I UNDERSTAND YOU WENT TO UCLA?
KAREN BANKHEAD: YES, WHEN I WAS ABOUT 12 YEARS OLD I READ AN ARTICLE IN THE READERS' DIGEST ABOUT A CHILD PSYCHOLOGIST WHO STUDIED AT UCLA AND RIGHT THEN I DECIDED I WANTED TO GO THERE AND STUDY PSYCHOLOGY. AND THEN, I WAS ALSO IN TO THE NCAA BASKETBALL TOURNAMENTS ON TV AND UCLA WAS ON TOP AND IT SEEMED LIKE AN EXCITING PLACE TO BE.
WKI MAGAZINE: WHEN DID YOU ATTEND UCLA AND WHAT SUBJECTS DID YOU STUDY?
KAREN BANKHEAD: I HAD A HARD TIME DECIDING BETWEEN GOING TO STANFORD OR UCLA, BUT I THINK I WAS ALWAYS INTERESTED IN GOING TO HOLLYWOOD. SO, I WENT TO UCLA TO STUDY PSYCHOLOGY BUT ALSO TOOK ACTING CLASSES AT NIGHT.
WKI MAGAZINE: WHEN DID YOU BECOME AN ACTOR, WRITER AND COMEDIAN?
KAREN BANKHEAD: I NEVER HAD A DEFINITIVE PLAN TO DO ANY OF THOSE THINGS. BUT, I HAVE FOUND IN ALL OF MY LIFE, THE BEST THINGS HAPPEN NOT WHEN I'M PUSHING AND STRIVING TO MAKE SOMETHING HAPPEN, BUT RATHER WHEN GOD STEPS IN AND SETS SOMETHING IN MY PATH THAT IS SPECIFICALLY FOR ME, AND IT'S ALWAYS THE VERY BEST THING, BEYOND MY OWN IMAGINATION! IN TAKING CLASSES AND BEING FRIENDS WITH WORKING ACTORS, I GOT SOME HEAD SHOTS, GOT AN AGENT (PARTLY BECAUSE I LOOKED VERY YOUNG BUT DIDN'T NEED A WORK PERMIT BECAUSE I WAS 18) AND STARTED GETTING ROLES IN ACTING. I LOVED PERFORMING BUT I'M NOT A FAN OF THE "GRINDING/HUSTLING" ASPECT OF ALWAYS TRYING TO GET WORK. I REALLY LOVE DOING THEATRE AND HAVE DONE TONS OF PLAYS IN SAN JOSE, LA AND NEW YORK. I WAS AWARDED THE NAACP AWARD FOR BEST SUPPORTING ACTOR FOR A PLAY I DID IN 2019. I STOPPED DOING A LOT LIVE THEATRE THOUGH BECAUSE OF MY FAMILY OBLIGATIONS. IT'S VERY TIME CONSUMING TO REHEARSE AND PERFORM EVERY WEEK FOR NOT A LOT OF MONEY (UNLESS YOU'RE BLESSED TO BE IN A HIT BROADWAY SHOW!). AND OF COURSE NOW, LIVE THEATRE IS SHUTDOWN DUE TO THE PANDEMIC. BUT, IT'S THE BEST FEELING AND I BELIEVE THE BEST WAY TO ACQUIRE SKILLS AND KEEP YOUR ACTING MUSCLES GOING. I WAS LED TO TRY STAND UP COMEDY BECAUSE IT'S A GOOD WAY TO GET EXPOSURE AND I HAD SOME JOKES, BUT I WAS MORE COMFORTABLE DOING CHARACTERS. AND I HAVE NEVER BEEN CRAZY ABOUT HANGING OUT AT COMEDY CLUBS LATE AT NIGHT, OR DOING ALL THAT IT TAKES TO GET ON STAGE ALL THE TIME. I DID A WHOLE LOT OF SKETCH AND IMPROV COMEDY WITH SECOND CITY AND THE GROUNDLINGS, AND DID A LOT OF WRITING WITHIN THAT. STUDYING IMPROV IS AN EXCELLENT WAY TO DEVELOP SKILLS FOR ALL KINDS OF ACTING AND ALSO WRITING. I HAVE ALWAYS BEEN A WRITER, AND WILL ALWAYS CONTINUE TO WRITE SOMETHING. AS THE SAYING GOES, ONLY WHAT YOU DO FOR CHRIST WILL LAST, SO I WANT TO DO THINGS THAT ARE MEANINGFUL.
WKI MAGAZINE: WHAT MADE YOU DECIDE TO GET IN THE BUSINESS?
KAREN BANKHEAD: WHEN I GRADUATED FROM UCLA, I REMEMBER WALKING AROUND A JOB FAIR WITH MY BRIEFCASE AND RESUME, AND I HONESTLY COULDN'T FIND ANYTHING I WANTED TO DO MORE THAN ACTING. I PROMISED MY DAD I WOULD GO TO LAW SCHOOL IF I DIDN'T FIND SUCCESS AS AN ACTOR AFTER TWO YEARS AND I ENDED UP BOOKING A TV SERIES WITHIN TWO YEARS.
WKI MAGAZINE: I UNDERSTAND YOU HAVE BEEN IN SEVERAL MOVIES AND TV SERIES.
KAREN BANKHEAD: HERE ARE ALL OF MY MOVIE AND TV CREDITS ON IMDB https://www.imdb.com/name/nm0052071/
WKI MAGAZINE: WOULD YOU MIND SHARING SOME OF THE MOVIES OR SHOWS THAT YOU WERE IN THAT WE MAY REMEMBER?
KAREN BANKHEAD: I HAD A LOT OF FUN BEING IN THE FIRST SEASON OF "CURB YOUR ENTHUSIASM," WHICH IS ENTIRELY IMPROVISED. IT WAS A FUN EXPERIENCE AND I HAD NO IDEA HOW POPULAR THAT SHOW WOULD BECOME. I ALSO WAS IN THE MOVIE "I AM SAM," AND THAT TURNED OUT TO BE SUCH A MOVING PROJECT. MY MOST RECENT PROJECT WAS THE SHOW "KIDDING" ON SHOWTIME. IT WAS ALSO A VERY MOVING EPISODE AND I GOT TO WORK WITH JIM CARREY AND JUDY GREER WHO ARE BOTH AWESOME. ONE OF MY FAVORITE AND MOST VISIBLE ROLES WAS WHEN I PLAYED A CRAZY NEIGHBOR ON "THE PARKERS." THE EPISODE WAS DIRECTED BY SHERYL LEE RALPH WHO I WORKED WITH ON MY FIRST TV SERIES AND THERE WAS SO MUCH COMEDY AND FUN IN THAT EPISODE. A LOT OF PEOPLE STILL COMMENT ON THAT ONE. I ALSO DID "THE GILMORE GIRLS" WHICH IS POPULAR, "BERNIE MAC," AND "JAMIE FOXX." I ALSO DO LOOPING ON SOME TOP MOVIES AND TV SHOWS AND I'VE DONE COMMERCIALS AND VOICEOVERS, WHICH ARE GREAT WAYS TO MAKE MONEY. ALTHOUGH I HAVEN'T WORKED AS MUCH AS I WOULD LIKE TO, I HAVE TO SAY I HAVE BEEN VERY BLESSED TO WORK WITH SOME AMAZING PEOPLE AND PROJECTS THAT ARE POWERFUL OR MOVING OR JUST A WHOLE LOT OF FUN.

WKI MAGAZINE: WHAT INSPIRED YOU TO BECOME ETTA MA MUMPHRIES?
KAREN BANKHEAD: THIS IS A LONG STORY, BUT BASICALLY, I WAS CAST IN A PLAY THAT WAS SUPPOSED TO TOUR FOR SEVERAL MONTHS BUT IT CLOSED IN THREE WEEKS. I HAD GIVEN UP MY DAY JOB AND EVERYTHING IN LA TO GO ON THE ROAD, AND WHEN I CAME BACK, I REALLY NEEDED TO BOOK SOME WORK. I WENT ON AN AUDITION FOR A SITCOM AND I WAS WAY TOO HUNGRY FOR THAT JOB! THE CASTING DIRECTOR WAS NOT VERY INTERESTED IN ME AND AT THAT MOMENT I FELT THAT IT WAS NOT GOOD TO HAVE SO MUCH INVESTED IN ONE PERSON CASTING ME OR GIVING ME A BREAK. SO, I SAT DOWN AND WROTE A ONE PERSON SHOW, WHICH A LOT OF PEOPLE WERE DOING AT THAT TIME. IT'S A GREAT WAY TO TELL YOUR STORY AND SHOWCASE YOURSELF. IT TURNED OUT TO BE SO MUCH FUN TO WRITE ABOUT MY JOURNEY AS AN ACTOR, FALLING INTO DEPRESSION AND COMING OUT OF IT WITH HOPE AND A PURPOSE. IT'S CALLED "THE V-05 EXPERIENCE," AND IT HAS BEEN PERFORMED IN NEW YORK, SAN FRANCISCO, AND ALL OVER SOUTHERN CALIFORNIA. I WANTED TO END THE SHOW WITH AN OLDER AFRICAN AMERICAN WOMAN SPEAKING WORDS OF WISDOM INTO THE LIFE OF "KAREN" THE ACTRESS. I'M NOT SO GREAT WITH IMPRESSIONS ALTHOUGH I THOUGHT ABOUT DOING LENA HORNE OR RUBY DEE OR SOMEONE LIKE THAT. BUT THEN I SAW THIS DOCUMENTARY "BUBBLING BROWN SUGAR" ABOUT AFRICAN AMERICAN WOMEN IN SHOW BUSINESS THROUGHOUT HISTORY. I SAW JOSEPHINE BAKER, BILLIE HOLIDAY, ALBERTA HUNTER, LOTS OF WONDERFUL LADIES, BUT I GOT INTERESTED IN THE LESSER KNOWN LADIES BEING INTERVIEWED, WHO YOU NEVER HEARD OF BUT THEY KNEW ALL THE DETAILS ABOUT THESE OTHER FAMOUS LADIES. ETTA MAE BECAME THAT LADY - THE FOREST GUMP OF ENTERTAINMENT, BECAUSE SHE INSPIRED EVERYONE TO DO WHAT THEY DO! AND THE REST IS HISTORY! FROM THERE, I CAME UP WITH STORIES FOR HER TO TELL ABOUT EVERYONE FROM SAMMY DAVIS JR TO TAYLOR SWIFT. (YOU CAN SEE SOME OF THIS ON YOUTUBE OR READ THEM IN THE BOOK.) AND THEN, SHE TOLD HER OWN STORY ABOUT HAVING FAITH, AND NOT WORRYING ABOUT ANYTHING BECAUSE GOD IS ALWAYS IN THE MIX. I WANTED HER TO HAVE THAT SPIRIT AND COMFORTING WORDS AND WISDOM THAT COME WHEN YOU SIT DOWN AND HAVE A GOOD TALK WITH YOUR GRANDMA OR AUNT OR CHURCH MOTHER. IT MAKES ME SO HAPPY THAT PEOPLE FROM ALL WALKS OF LIFE LOVE ETTA MAE AND HER MESSAGE AND SHE BRINGS LIGHT AND LAUGHTER WHEREVER SHE GOES. MY LIFE AS A COMEDIAN IS PRETTY MUCH ALL ETTA MAE NOW. I STARTED DOING THE CHARACTER ON HER OWN, OUTSIDE OF THE SHOW, AND THEN HOSTING AS ETTA MAE AND NOW I GET CALLED ALL THE TIME TO PERFORM AT CHURCHES, CONFERENCES, PRIVATE PARTIES, CORPORATE EVENTS, ETC.
WKI MAGAZINE: I READ THE BOOK AND REST IS HISTORY WRITTEN BY YOU WITH THE CHARACTER ETTA MAE MUMPHRIES AND LOVED IT. WHO'S IDEA WAS IT TO COME UP WITH THIS CHARACTER, BECAUSE IT'S GENIUS?
KAREN BANKHEAD: THANK YOU SO MUCH! BEING ETTA MAE MUMPHRIES IS REALLY MY PASSION NOW. I WANTED TO WRITE AN INSPIRATIONAL BOOK IN ETTA MAE'S WORDS AND I KEPT THINKING OF A CONCEPT FOR YEARS. AND THEN ONE DAY, I FELT THE LORD SPEAK TO ME AND SAY "KEEP IT SIMPLE" - PICK 11 OR 12 CONCEPTS TO SPEAK ON IN ETTA MAE'S VOICE AND INCORPORATE SCRIPTURE. SO, I THOUGHT OF MAJOR THEMES IN LIFE AND MY FAVORITE SCRIPTURES AND USED STORIES THAT WERE ALREADY PART OF ETTA MAE'S ACT AND IT ALL CAME TOGETHER IN JUST A MATTER OF A FEW DAYS. WE ARE ON OUR 4TH PRINTING AND I'M ALWAYS HAPPY TO SELL MY BOOKS AFTER A SHOW, OR GIVE THEM AWAY WHEN I'M PERFORMING AT A SENIOR HOME OR RUN IN TO SOMEONE WHO COULD USE A PICK ME UP. I REALLY WANTED PEOPLE TO HAVE THE BOOK TO SIT BESIDE THEIR BED WHEN THEY ARE SICK OR DOWN, OR IN THEIR POCKETBOOK TO HAND TO SOMEONE IN NEED OF INSPIRATION AND A LAUGH. SO IT HAS BEEN A BLESSING! PROV 17:22 says "A joyful heart is good medicine!"

WKI MAGAZINE: I ALSO SEEN YOUR YOUTUBE.COM/ETTA MAE TV VIDEO, WAS THAT YOUR IDEA OR SOMEONE ELSE'S?
KAREN BANKHEAD: I HAD A WEBCAM SEVERAL YEARS AGO, AND MY FIRST VIDEO WAS ME FILMING AN APOLOGY AS ETTA MAE FROM MY CATS TO MY FRIEND'S DOG. AFTER THAT, I JUST STARTED RECORDING SHORT VIDEOS FROM MY DESK AND OVER THE YEARS THEY HAVE BECOME MORE SOPHISTICATED AND RANGING IN TOPICS. YOU CAN DO A LOT WITH JUST AN IPHONE! WHEN I LIVED AT THE BEACH, IT WAS REALLY FUN TO GO OUT EARLY IN THE MORNING WHEN IT IS SO BEAUTIFUL AND PEACEFUL TO FILM SOMETHING INSPIRATIONAL WITH MY LITTLE PUPPY. I MISS THOSE DAYS!
WKI MAGAZINE: WHAT ARE SOME OF YOUR NEXT PLAYS OR PROJECTS COMING UP?
KAREN BANKHEAD: WE ARE DEVELOPING A SHOW FOR ETTA MAE MUMPHRIES, AND I HAVE A SCRIPT TO BE PRODUCED CALLED "THE ABW COMPLEX." IT'S A SCI-FI PARODY ABOUT THE MISUNDERSTOOD CONCEPT OF THE "ANGRY BLACK WOMAN," AND I THINK IT'S VERY RELEVANT FOR THESE TIMES. I ALSO HAVE A FEW VIRTUAL COMEDY SHOWS COMING UP ONLINE AND ZOOM WHICH YOU CAN FIND OUT MORE ABOUT ON MY FACEBOOK PAGE.
WKI MAGAZINE: HOW CAN THE READERS LEARN MORE ABOUT YOU AND CONTINUE TO FOLLOW YOU?
KAREN BANKHEAD: I WOULD LOVE FOR EVERYONE TO FOLLOW ME ON TWITTER AND INSTAGRAM @ETTAMAETV and SUBSCRIBE TO MY YOUTUBE CHANNEL www.youtube.com/ettamaetv WHERE WE PUT UP FUNNY AND INSPIRATIONAL VIDEOS ON A REGULAR BASIS, INCLUDING #SPEEDYSCRIPTURE EVERY TUESDAY AND THE #STAYATHOMECHOIR. I ALSO HAVE A FAN PAGE ON FACEBOOK WHICH IS WHERE THE VIDEOS ARE SHOWN FIRST -- SO PLEASE LIKE "ETTA MAE MUMPHRIES" on FACEBOOK! SINCE WE ARE QUARANTINED AND I HAVE MY MOTHER AND MOTHER-IN-LAW HERE, WE STARTED DOING FUN MUSIC VIDEOS AND SINGING AND DANCING TOGETHER TO KEEP EVERYBODY BUSY! IT'S ALL A LOT OF FUN AND HOPEFULLY PROVIDING A LAUGH BECAUSE WE ALL NEED TO KEEP LAUGHING, DESPITE THESE CHALLENGING TIMES.