WKI Magazine Entertainment Article #4-
Danna Wilberg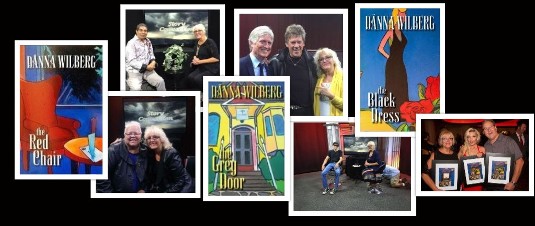 I recently had the privilege of interviewing the very talented author, TV talk show host, and film producer, Dänna Wilberg. Dänna has had her own trilogy series of books published, with The Red Chair being the first in the series. The Red Chair is the story about psychotherapist Grace Simms who thinks she knows her own weaknesses. She relies on her professional prowess for success until her college crush, Jess Bartell, arrives in Sacramento. Jess battles wits with police Sergeant Garrett Weston when Grace finds herself being stalked. Who is skulking in the dark? Calling in the middle of the night? Sergeant Weston suggests Grace get a dog, but when stalking turns to murder, it's Weston who goes sniffing around Grace's clients, forcing her into a decision: defend her code of ethics or catch a killer?

The Red Chair is followed by The Grey Door and The Black Dress. I highly recommend reading these books, as they had me on the edge of my seat wondering what would happen next. It was very refreshing to see something different and see a strong character like Grace going head to head with a psychopath.

Dänna is also an award-winning talk show host who has two shows on Access Sacramento. The first is called Paranormal Connections, which is about people and their encounters with the paranormal, the supernatural, and even aliens and things that can't be explained. She's had doctors, authors, tarot readers, hypnotherapists, psychologists, psychics, and musicians make appearances on her show, and has had great guests including Michael Tellinger, Chip Coffee, Laurie McDonald, Linda Potter, Joseph Martin, Rick Stevens, and Coach Greg Roeszler.

Her other show, Story Connections, focuses on very talented, interesting, inspiring or even crazy stories from determined people who have done extraordinary things. She's had musicians, rappers, actors, athletes, authors, filmmakers, and producers appear on her show. Some of her notable guests include Emmy Award winning music composer (The Amazing!) Alex Wilkinson, and the late great award-winning actress Pamela Finney, one of the best actresses ever to come out of Sacramento, who tragically died in a car accident on her way home after having just finished filming in a Hollywood film. Other guests include the 24 Hour Ultra Marathon runner, athlete, actor, writer, formerly known as "Hurricane Nate" and currently known as "Notorious" Nate Wren, the original lead singer in the band "The Tower of Power" Rick Stevens, the talented author of The Father of Hollywood Gaelyn Whitley Keith, public relations expert Michele Smith, actor and entrepreneur Randy Taylor, and the talented make-up artist Bunny Stewart.

Both of Dänna's shows have won multiple awards, including audience favorite awards for several years. Dänna is also an award-winning film producer known for her films:

The Push (2009), Winner of "Audience Favorite" at A Place Called Sacramento Film Festival
Little Thieves (2010)
Borrowed Time (2011)
The Producer (2012)
The Story (2014)
Afternoon Delight (2016), Winner of "Producer's Favorite" at A Place Called Sacramento Film Festival

Dänna is currently an event chair alongside Laura Chick and film commissioner Kathleen Dodge for Eldorado County for the I Love Film Mixer in Placerville at The El Dorado County Fairgrounds on Friday, March 9th at 4pm to 8pm. This year's special guest speaker is Toni Staniewicz, the casting director for the Academy Award nominated film, Lady Bird. I've personally attended this film mixer before, and it's a great way for aspiring actors, actresses, and filmmakers to learn things from experienced professionals, with opportunities to ask them questions and make great contacts. Past speakers at the mixer included actor Perry King and director Deon Taylor.

Dänna Wilberg is one of the most interesting and sweetest authors I've ever met. I highly recommend watching her show, Story Connections, where watching ordinary people and seeing the extraordinary things they've done can be very moving and inspiring, and how hearing the things these people have gone through to achieve success or reach their goals is truly inspiring. Dänna gives these people who never would have been given a chance to tell their stories a moment in the spotlight, and it is a very heartwarming experience. When you're in the chair next to Danna and the lights are on you, it's just an amazing and surreal feeling to be on television and seen in the greater Sacramento area.
You can follow Dänna Wilberg, her shows, and her books on:
Danna Wilberg


Danna Wilberg
Visit Amazon.com's Danna Wilberg Page and shop for all Danna Wilberg books. Check out pictures, bibliography...