WKI Magazine Entertainment Article #14
Mel Novak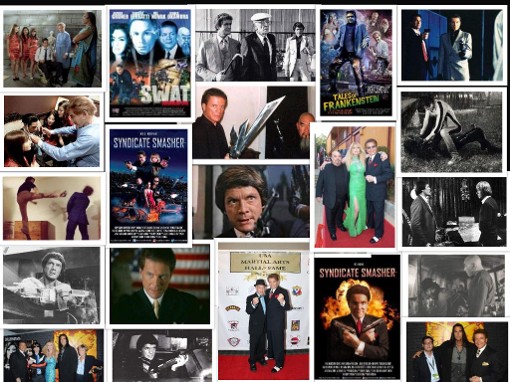 I recently had the honor and privilege of interviewing legendary movie villain, Mel Novak who has done over 50 films and has 36 Starring or co-starring roles is also in the Martial Arts Hall of Fame.
Before he got into modeling or acting, Mel was a world class athlete in football, track, baseball and basketball. He turned down sixty athletic scholarships to major universities so that he could play professional baseball with the Pittsburgh Pirates. Scouts and sports writers said he was a "can't miss power hitting third baseman and short stop who showed a lot of promise." His career was cut short by a massive rotator cuff tear that required surgery, leaving him with an eighteen-inch scar and crippling for five years, taking away his dream of being a major league ball player.
This was very difficult time for him, but he never drank alcohol or did drugs. He decided to go to L.A. but not to pursue acting, but to get away from all the people who kept telling him he should have gone to college and played football and saying that he's now just a cripple. When Mel moved to California he got a job with an insurance company. One of the women at the company told him he looked sharp in work clothes and that her cousin was a modeling agent and if he would like to meet her. He went on to do a lot of modeling and then took some great acting classes, landing him several TV and movie roles. His guest-starring role as a hitman on the TV series The Mannix opened the door for Mel to play villains, which he loved to do years before his iconic role in The Game of Death. Bruce Lee told Mel that he had the perfect villain face. Little did Bruce Lee know that Mel would play the assassin in his last film.

Mel Novak is one of those rare actors who did all his own stunts and fight scenes. He learned karate as well as several other types of martial arts from martial arts legend Pat E. Johnson. Mel always hung out with the stunt guys and learned everything he could from them. During his film and TV career, Mel has worked with Hollywood greats like Oscarwinning actor Yul Brynner, Max Von Sydow, Christopher Lee, Steve McQueen, Peter Graves, John Vernon, Gig Young, Robert Blake, Richard Roundtree, Isaac Hayes, Rudy Ray Moore, Scatman Crothers, Aki Aleong, John Carradine, William Forsythe, Noel Gugliemi, Sally Kirkland, Jake Roberts, Bill Goldberg, Tyler Mane, Kane Hodder, Sam Jones, Jamisin Matthews, Richard Norton, Dan Aykroyd, Rosie O'Donnell, Fred Williamson, Tommy Wiseau, Iman, Barry Primus, Colleen Camp, Juliet Landau, Judy Landers, Mary Beth McDonough, Linda Evans, Gloria Hendry, Sybil Danning, Dyan Cannon, Stan Shaw, Joanna Miles, Dawna Leigh Heising, Mike Connors, and George Kennedy, to name a few.
He has also worked with martial arts greats including Bruce Lee, Chuck Norris, David Carradine, Robert Wall, Mako, Jim Kelly, Gary Daniels, Daniel Bernhardt, Chris Cassamassa, Roy Chiao, Pat E. Johnson, Biao Yuen, Joe Lewis, Ian Jacklin, Benny Urquidez, Professor Tori Tanaka, Bill Wallace, William Christopher Ford, Gerald Okamura, Tae-Jeong Kim, Sammo Hung, Bolo Yeung, T.J. Storm, Dan Inosanto, and Han Jae Ji.
He's worked with legendary director Robert Clouse in over four different films, and notable Hollywood directors like Joel Schumacher, Gary Marshall, and Gregory Hatanaka. Other talented directors he had worked with include Thomas J. Churchill, Dustin Ferguson, Leo Fong, Ron Pohnel, David Huey, Jonathan Kaplan, Steve Carver, and Christopher Michael Dailey.
Mel told me about a dangerous stunt he performed on the set of The Ultimate Weapon, where he received a standing ovation from Yul Brynner after he performed a stunt that could have easily turned deadly.

Awards won by Mel Novak
Action on Film International Film Festival, USA
Icon Award Winner 2016

Los Angeles Nollywood Film Awards
Film and Television achievement award 2017

Universe Multicultural Film Festival
Living Legend award 2017

WIND International Film Festival
Jury award winner 2017
Trail Blazer award winner 2017

Even more impressive than his athletic abilities and his Hollywood career is his work as an ordained minister. For thirty-seven years, Mel has ministered on the streets of L.A. and in chapel services at the Union Rescue Mission, Fred Jordan Mission, L.A. Mission, and the Long Beach Mission. Mel has also ministered for the for the past 35 years in penitentiaries in New Jersey, New York, New Mexico, Arizona, Nevada, Alabama, Washington, Texas, Florida, Pennsylvania, and Oregon, as well as San Quentin and Pelican Bay in California. Mel has preached to some of the most dangerous hardened criminals, killers, murders, and thugs in the world without fear or protection. He went in and preached to these men and has turned many lives around and saved many people over the years. He's preached to the downtrodden who have lost all hope and has had over 175,000 people accepted Jesus Christ as their Lord and Savior. Mel has helped change so many lives across America more than he'll ever know. His acts of kindness have inspired many others including myself to help other in need and go make a difference in the world.
Mel, out of the goodness of his heart, pays for all his expenses and funds his own non-profit organization with his own money. He pays for traveling, food, lodging, and Bibles to pass out to prisoners and the homeless. He is such a giving man.
You can see Mel Novak starring in Tales of Frankenstein coming out on Halloween and Robo Woman later this year.