WKI Magazine Entertainment Article #10
Carlos "El Famoso" Hernandez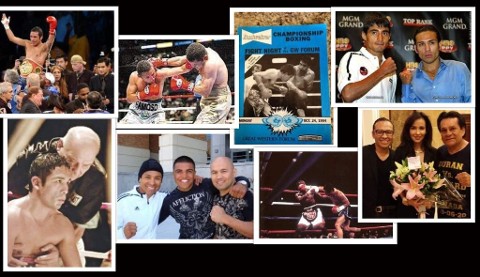 I recently had the honor of interviewing former world boxing champion, Carlos "El Famoso" Hernandez. Carlos was born on Saturday January 23rd, 1971, the son of El Salvadoran immigrants, Carlos and Olga Hernandez. Carlos grew up in the Hoover and Washington area of Los Angeles on 18th St. in a time when racial tension, crime and gang violence was at an all-time high in Los Angeles. He was very proud of his heritage and visited El Salvador as a kid on more than a few occasions with his family on vacations.
In 1984, he moved to Bellflower, California, the old stomping grounds of legendary boxer Jerry Quarry. Carlos attended Summerset High School and started boxing at age 16. He started amateur boxing at 17 years old and became an L.A. Golden Gloves Boxing Champion. After high school, he attended Cerritos Junior College for three years, during which time he was on the track team and was a national karate champion.
Carlos credits his father, Carlos Sr., for keeping him busy with sports and off the streets and out of trouble. Carlos Sr. was a janitor who would leave their home at 9:30 pm get to work at 10 pm, and work till 6 or 7am. Then he would come home, take a two-hour nap, and then go work three or four hours as a janitor and custodian at a store. He did all of this so he that could take his son to train and keep his son's dream alive.
When Carlos was still in college, he turned pro in 1992 and fought Victor Martinez to a draw. The fight made him realize that if he wanted to be successful, he would have to put something aside: boxing or education. He chose to put education aside so that he could pursue his dream of being world champion boxer.
Carlos put everything he could into boxing and went on to win 21 fights in a row before losing a very close split decision to former WBF Superfeather Weight World Champion Aaron Zarate. On May 26, 2001, Carlos got his second shot at The WBC Superfeather Weight World title against the undefeated Floyd "Money" Mayweather, who was 25-0 at the time. Floyd had just come off a knockout victory over previously unbeaten World Champion Diego Corrales.
Carlos was an underdog going into the fight of his life. The pressure was intense because so many people thought he would be another knockout on Floyd's list. But he came to fight and gave the fight of his life against someone who had one of the greatest defenses in boxing history.
the fight, Floyd Mayweather injured his left hand and then his right hand during the sixth round. Mayweather flinched so badly he twisted and almost hit the canvas. One of his gloves touched the canvas and Referee Dale Grable ruled it a knockdown even if Mayweather hadn't been hit.
For one great moment, Carlos Hernandez scored the first knockdown of his career against Floyd Mayweather. He fought his heart out and kept coming forward as Mayweather landed punches on Hernandez that had nothing on them anymore.
Carlos caused Mayweather to have one of the worst performances of his career. The fans booed Floyd as he tried to fight through his injured hands, throwing punches that had nothing on him. The crowd cheered for Carlos as he kept coming forward. He may not have won that fight, but he sure won the night.
In 2003, Carlos got another shot at a world title at the IBF Superfeather Weight against Daniel Santos. Many people came to the fight and supported him. Among these were boxing greats Roberto Duran, Alexis Arguello, and the President of El Salvador, Florez Perez. Carlos put on a great performance and beat Santos by technical decision.
Winning a world title was one of the greatest moments in his life. He became a hero to the people in El Salvador and became a role model to many children and teens there who boxed or wanted to box.
In his 14-year career, Carlos has never been knocked out. He has fought some of boxing's all-time greats, some of which include:
Floyd Mayweather
Erik Morales
Genaro Hernandez
Greggorio Vargas
Aaron Zarate
Jesus Chavez
Kevin Kelly
Steve Forbes
Bobby Pacquiao
Notable wins throughout his career include:
Split Decision Win over 3 Time World Title Challenger Juan Carlos Ramirez.
Technical Decision Win over former IBF Superfeather Weight world Champion Steve Forbes.
TKO Victory in Round 2 over World title challenger Moises Pedroza.
Ten Round Unanimous Decision Win over World title challenger Justin Juko.
Fourth Round TKO win over World title challenger Angel Aldama.
Sixth round TKO win over World title challenger Javier Lucas
Ten round Majority Decision Win over former WBC Featherweight world champion Gregorio Vargas.
Ten round Unanimous Decision Win over World title challenger Narcisco Valenzuela.
list of professional boxing titles won by Carlos Hernandez

IBF Super featherweight world title
WBC Latino Super featherweight title
IBC Super featherweight title
After Carlos retired from boxing, he became a boxing promoter and started his own promotion company called Famaso Productions to bring boxing shows to San Antonio, Texas. Some of the proceeds from his shows go to help in the fight against ALS and cancer. Talented fighters including Juan Tapia and Ramon Cardenas have fought on his shows.
In a sport where promoters like to make some miss matches so they can give the crowd some knockouts, the result could sometimes end a lot worse than just a knockout. Carlos puts on good, evenly matched fights that people can enjoy. He truly looks out for these fighters on his show.
Carlos also had a famous daughter, Camila "El Famosa" Hernandez, who is currently ranked #1 in the nation and # 6 in the world in gymnastics. He would like to thank his wife, Veronica, who was always there for him, his father, Carlos Sr., and his mother, Olga.
He also credits trainers who have passed on that had helped him get to where he is today: Amilcar Brusa, Jack McCoy, and Bill Slayton
Carlos Hernandez is one of the most humble and professional people I've ever interviewed.