WKI Magazine Entertainment Article #26
Lon Gowan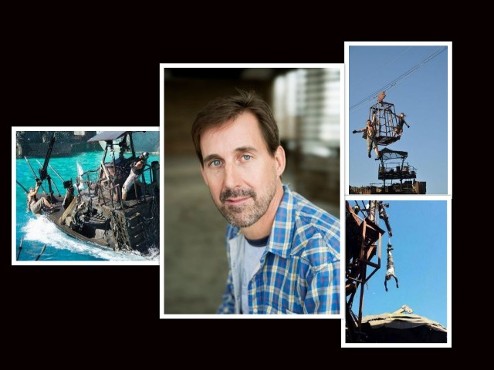 WKI Magazine Interview
with
Lon Gowan
Actor/Stunt Man

WKI Magazine: What was your inspiration to become a Hollywood stuntman?
Lon Gowan: I've always enjoyed performing, I started acting when I was a kid. I also really enjoyed playing sports. I was good at sports, but didn't have a strong competitive drive to win. I liked playing, being physical. I was always more into the teamwork and play, than the final score. After college, I had graduated with a BFA in Theater and been a four-year soccer player, I met a stuntman in Vermont, of all places, and, in a brief conversation, discovered that there was a job that combined the performing and athleticism that i enjoyed. I decide to become a stunt performer, an "action-actor".
WKI Magazine: What was your most dangerous stunt job?
Lon Gowan: All stunts have danger. Many great stunt performers have been hurt or killed doing what might be considered a "simple gag". I've done wire-work 110-feet up on the side of a building hanging by one leg, which, with the rigging and riggers we have, is incredibly safe, but the height alone makes the potential of any mistake exponentially catastrophic.
Firework is always really dangerous as far as injury occurring. The set-up and execution for any fire gag is meticulous and well rehearsed. Horses create a whole other type of danger, in that, with all the planning, preparation, and rehearsal, the animal still has a brain and can make decisions on it's own that will affect the outcome. Getting hit by a car is always going to leave a mark, if not on the first take, then the second or third.
What stunt people do is risky. There are stunt professionals that have spent lifetimes dedicating themselves to making every gag as safe as possible by creating new equipment, techniques, and innoventions, but every stunt is dangerous and the "most dangerous" is the one that you thought wasn't.
WKI Magazine: What was your favorite role as an actor?
Lon Gowan: Working on Jordan Peele's "Us" was really special. As a director he allowed everyone to play and discover. For that movie, we had to shoot most scenes twice because the same actors were playing two characters, one good and one evil, that meant two nights in a row of the same scene. It was a blast. After we laid down a few takes as scripted, we would change little things here and there. Jordan would get really excited with a new idea for the scene and come up to me with "Okay great! Now, try this one like....". He would have a different idea each time and eventually he asks "Do you have something you want to try?"... and I did! It was so much fun to be able to play and be a part of a larger collaborative effort.
WKI Magazine: What is your favorite genre you like to work with?
Lon Gowan: Comedy. It's really hard. I love the challenge of it. So much of what is funny to people is subjective, but the constant that makes good comedy is "honesty and truth". You have to commit 100% to the story you are telling. You have to be all in on the emotion and pain of the character. I really love physical comedy for that reason too. As a action-actor, I love getting a call to come in to take a few hits and falls for a comedy. As a film and TV performer, there are a very few things better in your career than making the crew laugh.
WKI Magazine: Who were the biggest names you got to work with?
Lon Gowan: I've been on set with a lot of very famous people, but for me, I'm more excited by the good fortunate I've had to be able to work with some people that I really admire for their craft, their lives, and their body of work.
Jordan Peele, of course.
Angela Bassett, who I think is a wonderful actress, I was a bit tongue-tied working with her.

On "Frank and Gracie" I worked with Lily Tomlin, Jane Fonda, Martin Sheen, and Sam Waterston, all of whom I really admire as incredible artist.
The entire cast of "Seal Team", you just feel really proud being on that set. Many of the cast have served this country in ways that we can never repay.
Early in my career, when I first came to Hollywood, I was honored to be able to work with Mr. Ozzie Davis and Ms. Ruby Dee. Tww of America's greatest actors. To be able to sit and listen to them talk about their careers and their activism, is one of the most memorable moments I've ever had on set.
Not as well known actors that thrilled me personally to work with were Mr. John Randolph, who had been blacklisted from working from 1948 to 1966 and Mr. Ralph Waite, who was in one of my all-time favorite movies "Cool hand Luke" and also "Five Easy Pieces". It was a thrill just to hear their stories.
WKI Magazine: What are your upcoming projects?
Lon Gowan: "Us" is still in theaters and doing great! In June, season two of HBO's "Big Little Lies" will premiere and I have a nice co-star acting part in that. I did a couple movies last year that will be out this year sometime, "Agent II" and "Chompy and The Girls". My wife, Julie Dolan, is one of the leads in "Chompy and The Girls", so that is a lot of fun for us.
I still love to do theater and have a show "Santasia: A Holiday Comedy" that I do with an amazingly talented group of friends every December. I can also be seen working with the spectacular cast and crew at the Waterworld Stunt Show at Universal Studios Hollywood.
For more information on Lon visit:
IMDb Link:
https://www.imdb.com/name/nm0332935/

Acting Reel:
https://vimeo.com/230714012

Stunt Reel:
https://www.youtube.com/watch?v=xfwBrS7lNkY&feature=youtu.be

Represented by Laura Lichen Management
http://www.lauralichenmanagement.com/lon_gowan.html