WKI Magazine Entertainment Article #5-Bridgett Riley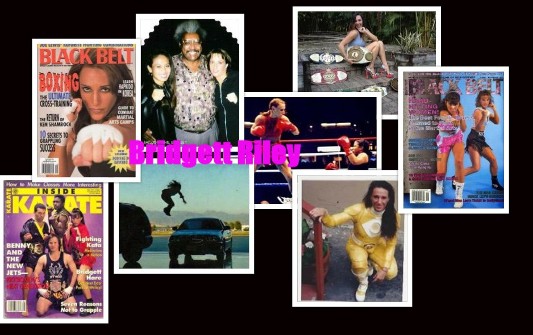 Me: When did you start boxing and kickboxing and what inspired you to start boxing?
Bridgett: Kickboxing became a natural progression from point sparring in karate tournaments when I was a teenager. I loved the camaraderie in the competitions alongside my brother, Patrick, and our teammates under the leadership and instruction of Mr. Jim Boucher in Belleville, Illinois. These were great times.
I eventually decided to move out to California to further my Kickboxing career, as well as jump into the sport of Professional Boxing. I was training at the world-famous Jet Center. The unique thing about the Jet Center is that a great deal of boxing was emphasized and focused on in our kickboxing training and I loved it. I had an edge in kickboxing because of the boxing technique I learned from my hero, Lilly Urquidez Rodriguez and my manager Blinky Rodriguez. There was NO shortage of talent at my new home in Van Nuys, California. This was a dream come true for me.
Me: Besides boxing what other martial arts did you train in?
Bridgett: My first style of karate was Okinawa-Te under Shihan Stan Weyrauch and Jim Hampton at Mid America Karate in Arnold, Missouri. I began as a white belt and competed up to brown belt and then we changed dojos. We made the decision to travel to Belleville, Illinois where I achieved my black belt under Mr. Jim Boucher, my karate instructor and first kickboxing coach. He is a 3-time Kickboxing World Champion and his style of the martial arts, which we studied, was Kuntaw.
Me: What did you love more: Boxing or Kickboxing, and why?
Bridgett: I love both sports immensely, but IF I had to choose ONE over the other, it would be boxing. It has an amazing history and has been around forever. It is my favorite sport. There is something magical about seeing the beauty of a perfectly executed combination of punches in bunches landing on an opponent and the effect that has on one in the ring. It is a sweet science and poetry in motion.
Me: What did it feel like to win a world boxing title on national television?
Bridgett: I was READY for that fight. Yvonne Trevino was an excellent Champion to dance with as iron sharpens iron and styles make fights. We were made for each other. It was an action packed 10 round battle that I was blessed to become the new IFBA Bantamweight World Champion. I am always nervous pre-fight and walking up to the ring, but the moment the bell rings, it's on and all the nerves go away.
Me: Who were some of your trainers and some of the kickboxing and boxing great you got to train with?
Bridgett: Dale "Apollo" Cook - kickboxing champion
He promoted a few of my kickboxing bouts in Tulsa, Oklahoma and he put me in one of his movies where we filmed in Manila, Philippines. It was all very exciting.
Ronnie "Diamond" DeLeon – kickboxing champion
We met when we both fought for champions Jim Boucher and Dale Cook. We clicked, and Ronnie helped sharpen my skills in Corpus Christi, Texas.
I met all sorts of mega champs at the Jet Center, where I trained.
Benny "The Jet" Urquidez, Blinky Rodriquez, and Lilly Urquidez Rodriquez owned this incredible gym I was blessed to call home.
Peter "Sugarfoot" Cunningham helped me often and we were teammates. He is a true class act and one of the best technicians in the sport. Roger Yuan, Danny Steele, and Hector Lopez helped me in sparring, technical drills, and coaching.
Lilly took me around to several gyms when we went solely into boxing. We trained at Wildcard, Hollywood, CA, with Freddy Roach and I had the pleasure of being in a gym with NO shortage of World Boxing Champions… including Manny Pacquiao, James "Lights Out" Toney, and far too many to list.
We decided to change gyms though and make the move to LA Boxing located downtown, Los Angeles, near the Grand Olympic Auditorium. This was the gym at the time. These were my best days in Boxing, period. I loved this gym.
LA Boxing was loaded with champions, which made training there a thrill and lent an epic atmosphere to be inspired by, daily.
My management hired boxing trainer Gabriel Gonzalez and then Javier Capetillo. Sparring male world champions constantly and surrounded myself with my talented teammates took me to a new level and they helped mold me into a much more rounded and better fighter. Just to name a few incredible fighters I was around daily would be, Salvador Casillas, Isidro "Chino" Garcia, Israel Vasquez, Jose Martin Castillo, Arnulfo "Chico" Castillo, Jorge Paez, Genero "Chicanito" Hernandez, Roger "Speedy" Gonzalez, "Sugar" Shane Mosely, Alejandro "La Cobrita" Gonzalez, and many more.
Me: What was it like being managed by Don King?
Bridgett: I loved when I signed with promoter Don King. It was very exciting. He put me on a Johnny Tapia card, and then he put me on the Evander Holyfield vs. Lennox Lewis card, that took place at Madison Square Garden, New York City. It was AWESOME!!
Me: When did you decide to become a stunt woman and actress?
Bridgett: I didn't really decide. I moved to California from St. Louis, Missouri with a single-minded mission to become a World Champion Fighter. That was my agenda. One day I was training at the Jet Center and a talent agent approached me and asked me to read a script. He later took me to an audition. I landed a small part on the original Mighty Morphin' Power Rangers TV series. I just fell into the acting, but I shortly stumbled into a much more interesting compartment of the entertainment business, the stunt department. My good pal, Eric Betts talked to the amazing Isaac Florentine and got me a "stunt" audition. The rest is history. I made the leap into stunts. I juggled working in the stunt business alongside my kickboxing and boxing careers. I was busier than a one-legged man in an a$$ kicking contest.
Me: Who were some of the big-name actresses you were a stunt double for in films and TV shows?
Bridgett: Kathleen Robertson and Tori Spelling: Scary Movie 2
Debi Mazar in Space Truckers
Jolene Blalock Star Trek: Enterprise (TV show)
Cloris Leachman in Scout's Guide to the Zombie Apocalypse
Winona Ryder in Stay Cool
Ashley Greene, Elizabeth Reaser, Casey Lebow, and Mia Maestro in Twilight Saga: Breaking Dawn
Malin Akerman in Watchmen
Kate French in Wicked Games
Amy Johnson, Thuy Trang, and Karen Ashley in The Mighty Morphin' Power Rangers
Stunt Ninja Jaime Pressly in My Name is Earl
Floriana Lima in The Nine Lives of Chloe King
Rosie Perez in Pineapple Express
Madeleine Stowe in Revenge
Eliza Dushku in The Saint
Dania Ramirez in Heroes (TV show)
Scarlett Johansson in The Island
Meghan Markle in The Knight Rider (2008 TV show)
Shannon Lee in Martial Law
Patricia Arquette in Medium
Brittany Murphy in Drive
Sienna Miller in G.I. Joe Dark Sky
Amanda Seyfried in Gone
Mary Elizabeth Mastrantonio in Grimm (TV show)
Maria Bello in Abduction
Portia De Rossi in Better off Ted
Alyssa Milano in Charmed (TV show)
Halle Berry in Catwoman
Sofia Boutella in Star Trek: Beyond
Scarlett Johansson in Iron Man 2
Hillary Swank's third opponent in Million Dollar Baby
Laurie Metcalf in Dharma and Greg
Me: What were some of the most dangerous stunts you've done?
Bridgett: Hmmmm…. I'm mainly known as a fight girl, but I have been thrown into several other hot spots. I've flown down concrete stairs…I've been ratcheted 12 feet through the air to flat back hard on a not so soft landing. I've been on wires 100 feet up in the air, rode descenders from high above to drop and land in a cool super hero pose, fallen out of moving vehicles, jumped from top of a suburban to a moving vehicle car hood, fought high up in the air on small surfaces, flown threw breakaway windows to drop a few stories, etc. etc. It's always different. This job totally keeps me close to God and always alert and on my toes.
Me: What was your favorite project you've done stunts on, and why?
Bridgett: I liked a movie I did called Serenity where I doubled actress Summer Glau. I liked it because I fought a gang of the top stunt guys around, and I learned really technical and cool choreography. I learned a lot about the business, people, and the business of people.
Me: What was your favorite acting role, and why?
Bridgett: I did a small part in a short film called Fetch. It was super fun and had a cool story line, and I worked with Dave Leitch, Chad Stahelski, and Daniel Bernhardt.
Me: Who are some of the great stunt-women and stuntmen you've gotten to work with?

Bridgett: There are far too many to list. Every job opens up a plethora of amazing relationships. On a long run on a movie, we become like family. We have each other's 6 all the time. We take care of one another and we have a bond because at times our lives are completely on the line. I still pinch myself that I get to belong to this elite group of people that represent stunts.
Me: Who would win in this team fight, and how?
Bridgett: Bridgett Riley vs. Yellow Ranger - me
Danna Reed vs. Pink Ranger - Danna
Patrick Riley vs. Blue Ranger - Patrick without question!!
Russ Hogue vs. Red Ranger - Russ
Donny Reinhardt vs. White Ranger - Donny
Jim Boucher Vs. Green Ranger - Mr. Boucher all day long
Ronnie "Diamond" Deleon vs. Black Ranger - Ronnie
Don King Vs. Alpha - hmmmm…… this I may pull up my chair with my popcorn and simply have to see. LOL