WKI Magazine Entertainment Article #39
Karan Ashley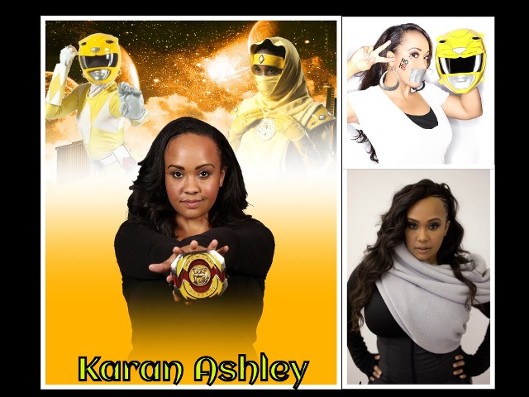 WKI Magazine Interview with
Karan Ashley

(Aisha-The Yellow Ranger on Mighty Morphin Power Rangers)
Actor / Producer / Writer / Singer / Dancer

WKI MAGAZINE: When and how did you become the yellow ranger in Fox Kids Series Mighty Morphin' Power Rangers?
KARAN ASHLEY:I started in the music business as a child but wanted to become an actress. A friend of mine told me about an audition she heard about in the newspaper for a kids show called Power Rangers. I lived in Dallas. It was an open call casting. I had never heard of the show Power Rangers and all I knew was you had to be a martial artist, gymnast or dancer. I was a dancer. They also wanted teenagers with attitudes. I had just graduated from High School so I thought this could be perfect for me. 4 days later, I had the role of Aisha.
WKI MAGAZINE: How did it feel to play the role of the yellow ranger in 'Mighty Morphin Power Rangers'?
KARAN ASHLEY:I felt really blessed. My dream was to be an actress and Power Rangers gave me the opportunity to be on a TV show and do a movie. I felt like I won the golden ticket. I think all kids at some point pretends to be a superhero and I had the chance to actually do that.
WKI MAGAZINE: What were some of your favorite memories of being the yellow ranger?
KARAN ASHLEY: Doing the movie is always a fond memory. We shot the movie in Sydney Australia. It was an adventure within an adventure. I had never been out of the country and it was my dream to one day live abroad. Australia is just one of those bucket list places. Plus the shooting the movie was awesome. Everything was bigger and better. The costumes, the sets and it was honestly a chance for all of us to really get to know each other and be friends.
WKI MAGAZINE: What other tv shows have you appeared on?
KARAN ASHLEY: I have been on Hangin With Mr. Cooper, Kenan and Kel, The Steve Harvey Show, The Parkers and others. I have been blessed to continue my acting career for 25+ years.
WKI MAGAZINE:Tell us about KRUSH (the girl group) you were with?
KARAN ASHLEY:KRUSH was a singing group I was in. We were signed to A&M Records and worked with Jimmy Jam and Terry Lewis. KRUSH really taught me how hard you had to work in this business. KRUSH was also when I got bit by the acting bug. I had my first audition when I was in KRUSH. I auditioned for Sister Act 2. I didn't get the part but I knew I wanted to act.
WKI MAGAZINE:Tell us about your experience as an executive producer & co-writer for the film Devon's Ghost?
KARAN ASHLEY: It has always been my dream to produce my own content. I think most creatives do more than one thing and writing is one of the things I love. I love creating a character/ story and watching it come to life. Devon'd Ghost was one of the first films I wrote.
WKI MAGAZINE: Tell us about your time on radio as a producer/co-host for "UnCensored Radio"?
KARAN ASHLEY: One thing I have always done well was TALK... LOL I loved Uncensored Talk because it gave me an opportunity to work in talk radio. We covered all subjects and since it was Uncensored, it was a more real experience. We wanted to create that open and safe place to have a discussion.
WKI MAGAZINE: What are some of your future plans?
KARAN ASHLEY: I am currently writing a TV show and pitching to networks. I hope we find a place for it. It mixes action, drama and reunites some familiar Power Ranger faces. I am a producer at heart and I just want to produce and write my own stories.
WKI MAGAZINE:Tell us something most people don't know about you?
KARAN ASHLEY: I was switched at birth. It's a funny but true story my family tells. My cousin was born within hours of me, we had the same last and we were switched. I have heard many versions of what happened or how they figured out the mistake but to this day, I always call my aunt and uncle my 2nd mom and dad. Me and my cousin laugh about it all the time. My mom wanted a boy so I am surprised she gave my cousin back. LOL!
For more information on Karan Ashley, check out her IMDb:
https://www.imdb.com/name/nm0039074/